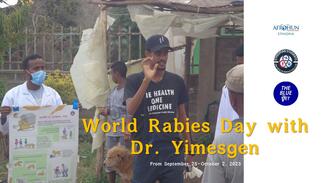 September 28th 2023 is the 17th World Rabies Day.
This year's World Rabies Day theme is: "All for 1, One Health for all".
Title: World Rabies Day with Dr. Yimesgen
Place: CJCR American Corner - St. Mary's University, Postgraduate Campus
Addis Ababa, and Jimma American Corner, Ethiopia
Date: September 25 and October 2, 2023.
Time: 3:00 PM – 4:00 PM
Introduction
World Rabies Day (WDR), established by the Global Alliance for Rabies Control (GARC) and recognized by the World Health Organization (WHO) every September 28, is a transcendental day to promote the fight against this disease and reinforce awareness about its prevention.
World Rabies Day is the biggest event on the global rabies calendar, and commemorated every year on September 28 – the anniversary of the death of Louis Pasteur – since 2007. World Rabies Day aims to raise awareness and advocate for rabies elimination globally. It is an event designed to be inclusive, uniting people, organizations, and stakeholders across all sectors against rabies. This year's World Rabies Day theme, "Rabies: All for 1, One Health for All".
This year Ethiopia has improved its rabies elimination effort and scored 2 out of 5 for the Stepwise Approach towards Rabies Elimination (SARE) evaluation. In 2016 it was 0.5 out of 5. But still, the rabies control and elimination program needs a hard work and support. The SARE evolution is a One Health, practical planning, monitoring, and evaluation tool to guide, develop, and refine rabies control programs. 
All for 1 – One Health for all
Rabies control programmes offer a great example to operationalize One Health - building the structures and trust that are crucial to establish systems for other zoonotic diseases, including those that are pandemic-prone.
Ensuring equitable access to health services and rabies post-exposure prophylaxis for underserved communities not only saves lives but also strengthens national health systems. This event is also an opportunity to remind stakeholders that the fight against rabies is not limited to a single day but needs to be conducted in a sustainable way to ultimately decrease the number of rabies deaths.
Source: WHO, WOAH, PAHO and GARC