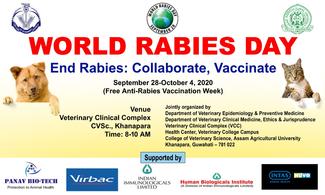 * PRE-EXPOSURE ANTI-RABIES VACCINATION OF VETERINARY STUDENTS, FACULTY MEMBERS & CLINICAL STAFF
Veterinary students, Faculty members and staffs who are engaged in clinics are at high risk of rabies infection, and were therefore, vaccinated with pre-exposure anti-rabies vaccination. A total of 107 individuals received the vaccine. 
* WEEKLONG FREE ANTI-RABIES VACCINATION OF COMPANION AND FREE ROAMING DOGS & CATS IN THE VETERINARY CLINICAL COMPLEX, CVSc., AAU.
Considering the recent corona pandemic situation in order to avoid overcrowding,  week long anti-rabies vaccination programme of companion animals & free roaming dog & cats is being organised. A total of 125 Dogs were vaccinated within the Guwahati  city, including 25 stray dogs within college campus. Grooming and healthcare products sponsored by Intas Nuvo were distributed among pet owners.
* ESSAY COMPETITION AMONG UNDERGRADUATE STUDENTS.
An essay competition was organised for fresh veterinary graduates and final year undergraduates on the topic 'VETS FOR A RABIES-FREE WORLD'. Out of several entries, best three entries were selected and a cash prize of Rs.1500,1000 and 500 was awarded to the first, second & third prize winners respectively, along with e-certificates.
Appreciation certificates were also sent to the volunteers who participated in the week-long free anti-rabies vaccination programme.
*PUBLICATION OF BROCHURE ON RABIES-'KNOW RABIES FOR NO RABIES'
The brochure containing relevant information for public about awareness and prevention on dog mediated rabies was inaugurated by the Dean, Faculty of Veterinary Science, AAU, Khanapara. 
**Organizing committee gratefully acknowledges the support received from Panav-Biotech, Indian Immunologicals, Human Biologicals Institute, Virbac Animal Health and Intas Nuvo. 
Event images