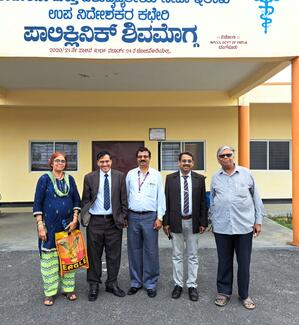 The Governament of Karnataka state, India  through the Department of Animal Husbandry and Veterinary services observed  WORLD RABIES DAY at  Shivamogga,  on 28th Sept. 2023.  Shivamogga is one of the major cities of India. Major part of the district has thick forest.
     As a part of the celebrations A free anti rabies vaccination drive was launched in the city and neighbor hood.   
     To commemorate celebration of the World Rabies Day 2023, the newly equipped veterinary polyclinic was dedicated to animal welfare of the Shivamogga district (pic)
     The  free vaccination for all animals against  Rabies was inaugurated by  Dr. Nidaghatta  Gangadhar  senior scientist  (zoonosis) at the veterinary polyclinic.  The vaccinations  were conducted by a team of  chief veterinary officers, senior veterinary officers and  support staff.
     Dr. Nidaghatta  Gangadhar  delivered the  key note  address. He recalled that the day also is the commemoration of the death anniversary of the great microbiologist-chemist Dr. Louis Pasteur and the celebrations in the world are spearheaded by  the Global Alliance for Rabies Control (GARC)  He spoke on the deadly  nature of rabies, its epidemiology, clinical manifestations, Dos and  Dont's for Vets and  public and steps to   prevent  rabies. GARC, WHO,  World  Organization for Animal health , CDC and  other  global health agencies have launched an intensive drive to achieve the  target of Zero dog mediated human rabies deaths  by 2030.
     The seminar was inaugurated by Mr.Snehal Sudhakar Lokhande, Indian Administrative Services ( I A S),  the head of the Zilla Panchayat (the district governing body). Dr. Basavesh Hugar , Deputy Director ,veterinary polyclinic  presided.  Dr. Shivayogi B. Yali   Deputy Director Administration Shivamogga District played a stellar role in coordinating the week long activities.
     Dr. Manjunath Palegar Director Animal Husbandry and Veterinary Services Karnataka  state was the guest of honor. 
     The other guests included  Dr. Ganesh Udupa  Dean of Veterinary college  Shivamogga, and Dr. S.G. Shekar , Managing Director Karnataka Milk Federation,(K M F ) Shivamogga, Dr.Muralidhar Manager K M F, Dr. Sunil Kumar Chief Veterinary Officer, Shikaripura shared   issues that the practicing Vet is called up on to solve on rabies in his daily routine.    Dr. Muralidhar, the chief Veterinary officer of Tirthahalli was the  anchor.
     It was a grand finale to the  World Rabies Day 2023 in Karnataka, very ably planned, organized and executed by the two district veterinary  heads Dr. Shivayogi B. Yali and Dr. Basavesh Hugar and their team.   
Event images