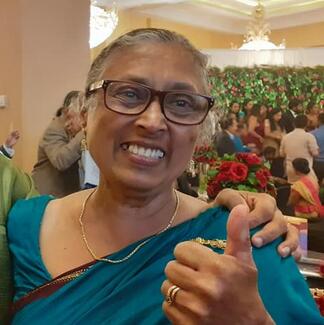 Description of your work
I am the founder of KACPAW and, this organization was registered as an Animal Welfare NGO in 1999. At that time, in Sri Lanka, about 100,000++ dogs were annually culled to prevent rabies, dogs being the primary animal from whom rabies is contracted by humans. My intention right from the inception was to eliminate HUMANELY unwanted dog population proliferation via sterilizing and vaccinating against rabies all the dogs who go through our Organization, in order to reduce the mass cull and hopefully stop it and convince the authorities that there are HUMANE methods of dog population control that have SUSTAINABLE RESULTS. So my next challenge in the early days of our work was to ensure non-culling of sterilized free-roaming dogs (both owned and unowned). In the initial period I was able to stop that by identifying the sterilized dogs with a red collar in Kandy and ensure the authorities spare catching them. With the Dog No-Kill Policy established in 2006, that issue was resolved. When the Dog No-Kill Policy was established in mid-2006, I was able to present a model to the State Health Authorities -- i.e., Ministry of Health-- almost immediately in early 2007, based on a pilot study I conducted in late 2006 to find a way of providing sterilization facilities across the Island, with positive results of the KACPAW model being accepted as the National Model in a countrywide STATE-FUNDED programme on sterilizing both owned and free-roaming female dogs since 2008. Both the No-Kill Policy and the National Sterilization Programme are still holding good, but the latter has not provided the desired sustainable results owing to it being manipulated for personal gains rather than to achieve the targeted Nationwide results. However, I continue with mass sterilization programs, particularly in Kandy and Nuwara Eliya Municipal Council (MC) areas since 2014 to date, so we can show that sterilization is not a failed practice in effective humane dog population control and that it can gain progress towards reaching zero population growth with systematic and regular mass spaying of both owned dogs and street/community dogs, as is largely evident in Kandy and Nuwara Eliya MC areas.
It is significant that this work has by and large arrested rabies incidence in dogs. This is KACPAW's surety policy, kept handy to counter any calls for removing or killing Street/Community dogs, especially because the situation with regard to dog population reduction is not so good in other areas of the Island where we are unable to carry out systematic work.
Thanks to my consistent, realistic and practical and results-oriented approach to the problem on dog population proliferation and rabies elimination since 1999, KACPAW's credibility as an organization that delivers results and practical and humane solutions is more or less now established. Here is an example. I via KACPAW was able to avert mass destruction of spayed and vaccinated dogs in and around Norochcholei Power Plant (biggest in the country) of the Ceylon Electricity Board (CEB) several years ago by booster vaccinating against rabies about 220 free-roaming dogs in and around the Power Plant after a suspect rabies dog had bitten or come into contact with a few of their Community dogs whom KACPAW has been spaying and vaccinating since 2018 to date at CEB's request and funding. The CEB took my advice and trusted the humane solution provided by me when they could have easily culled all the animals. There was no rabies outbreak, they reported back.
Impact in numbers
A very rough estimate of animals spayed/vaccinated would be 150,000 since KACPAW's inception (averaging per year 6,200 over 23 years of work) less in the initial years, but more after 2014) . However, more important than the actual numbers of sterilizations/ vaccinations that we have done, is the fact that I via KACPAW's trailblazing work have made a huge impact on changing minds and attitudes towards spaying, to such an extent where today people's demands for spaying cannot be met in a hurry. I have made owners more responsible in getting their pets sterilized and institutions asking for spaying their community dogs rather than removal of them. The Ministry of Health conducts annual vaccination clinics across the country which are well attended as the Ministry provides much awareness on the importance of vaccinating pets. Making sterilizations popular was no easy task in a Buddhist country where most considered sterilization an act of sin. Today, some Buddhist temples become KACPAW's mass spay clinic venues. Temples too are getting the female pups dumped in their premises spayed and adopted. Private homes too become KACPAW clinic venues as are various institutions.
Impact (description)
We have most definitely noticed fewer rabies cases in areas where I, via KACPAW, do consistent work. Reports are Nil in KMC areas of late as I checked with the KMC last August. Nuwara Eliya MC areas have similar results.
We have seen better community relationships between dogs and people, as evident in Kandy and Nuwara Eliya where our work has made street dogs into highly tolerable and much cared for Community dogs.
The current trend in Sri Lanka is to feed a street dog, but once a community knows the dog is sterilized and vaccinated, the dog is fed regularly, sometimes the dog being adopted to a home.
We have also received more support from local authorities because of your work in Kandy and Nuwara Eliya where I via KACPAW do regular work. Temporary removal of Community dogs of Kandy (80 initially now down to about 45 owing to non-proliferation of street dogs in Kandy owing to our consistent sterilization offers to the Community) during an annual pageant in which elephants are paraded and the authorities requesting KACPAWs care for them during that period. after which they go back to the City is a good example where our organization gets the support of several State institutions such as the MC, Governor and the Govt, Vet Hospital and an entire attitudinal change towards street/community dogs.
My personal experience with rabies
It was at a time when dog culling was being done to control rabies, that I began my dog welfare work. As a child and even an adult I watched helplessly till I set up KACPAW and began its work. In my bid to do dog welfare in Sri Lanka, I started working on Rabies as I realized that in Sri Lanka, as in many other countries in the world, dogs are intrinsically associated with rabies transmission to humans and if I am to do any dog welfare it must accommodate rabies control, eradication, etc. as well as working with the authorities. I also realized that I had to offer alternative sustainable methods of dog population control to the authorities to stop culling of dogs. This is the reason that made me include rabies in the welfare work as a primary activity and the same reason inspired me to choose rabies eradication and humane control of dog populations. This is why I via KACPAW together with WSPA of UK enabled the conducting of the first ever International HUMANE Rabies Eradication Conference by WSPA in 2002 involving all the local stakeholders to finalize a Five-Year National Plan of HUMANE Rabies Eradication, which was the ultimate target of the Conference.
Partners
1, Ministry of Health of the GOSL from the Minister to the Top Health Committees and National Committees appointed to formulate the National Dog Population Control Programmes and related matters. KACPAW donated four three-wheeler vehicles funded by WSPA and the RSPCA of the UK to the Ministry's rabies eradication programmesoon after the 2004 Tsunami.
2. The Public Health Veterinary Unit of the Ministry of Health and its Director from 2000 till about 2014.
3. The Health Education Bureau of the Ministry of Health and its Director and several relevant officials to design a rabies awareness /prevention leaflet in all three languages for islandwide distribution - this leaflet was funded by the RSPCA of the UK.
4. The Law Commission to formulate a new Animal Welfare Bill
5. The Department of Animal Production and Health (DAPH) and its Directors on various workshops on the need to transfer of National Sterilization Programme to the DAPH for better results, and on rabies and related matters.
6, The Medical Faculty of the Colombo University and its Dean and staff to formulate Ethical Guidelines when using Animals in Research in Sri Lanka (lacked till that intervention).
7. Kandy and Nuwara Eliya Municipal Councils -- the latter I convinced in 2014 on shelving a plan to incarcerate street dogs and introduced mass spaying, which is done to date annually.
8. University of Peradeniya Vet Faculty in my initial KACPAW work till about 2014 and Vice-Chancellor and relevant officials setting up a shelter in 2000 in University land. The shelter building was funded by WSPA and RSPCA of the UK. This shelter was closed in 2010 after about 12 years of sheltering animals, adoptions, and using it as a transit home for sterilizations as I realized we need to act at macro-level on rabies eradication and dog population control in order to have a sustainable impact.
9. Ceylon Electricity Board, Wennappuwa and Eravur Local Councils, and various other public institutions such as hospitals, botanical gardens in carrying out spay/rabies vaccination programmes for the dogs in their premises.
10. Anuradhapura MC and Local Council to close a govt. run abusive shelter and rescue the 300 odd dogs.
11. Aitken Spence Hotel Chain in carrying out spay/vaccination programmes over several years in and around their hotels.
*All information supplied by nominee. Content edited for language and formatting. This submission was shortened*