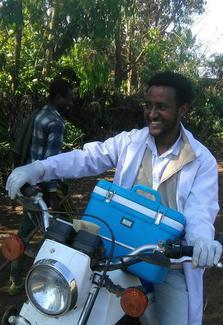 My work:
My primary activities include:
Collecting and registering: I register and collect data on the number of dogs and cats number in the district.
Awareness: I help to raise awareness about rabies disease symptoms, what people should do when they have been bitten, rabies vaccination, and what must be done when people encounter a rabid animal. I target various different member of my community, including students, farmers, government employees and priest/
religious leaders.
Vaccination and vaccination records: I vaccinated stray and owned animals and also prepare vaccination certificates. Almost 76 % of the animals vaccinated were certified. The only limitation was because there insufficient resources available to print the vaccination certificate.
Successes:
Awareness and education: Most importantly, almost all of the residents knew about rabies disease/symptoms, post bite management, and how they handle the rabid animals. Peoples no longer visit traditional healers when they are bitten, but rather, they contact me to find out what they must do after a bite. This is important so that they can receive the correct treatment. 
Vaccination: I have vaccinated more than 1500 dogs in my community which has an estimated population of 6542 dogs (based on survey and count data that I have collected and analysed). Furthermore, I have vaccinated 326 cats among a total of 432 cats in the community. 
Impact:
Education and awareness: In the past two years I have raised awareness for 5,430 residents of the district in regular ways by moving between churches and market places where people gather. In addition, more than 10,000 people received the information by indirect means (through word of mouth, posters etc.).
Vaccination: During the past two years 1500 dogs and 326 cats were vaccinated and certified.
Registration: I have successfully undertaken dog and cat population estimates and have registered many of the vaccinated animals. I have estimated a population in my community of 6,542 dogs and 432 cats, among which 832 dogs and 23 cats were stray/homeless.
(content modified from nomination information)