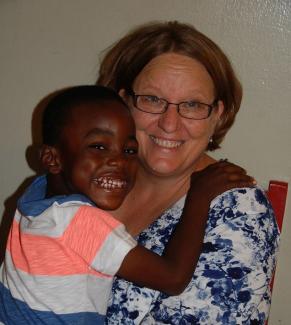 Dr. Kelly Crowdis is a veterinarian who has committed her life to serving the people of Haiti and improving the lives of the people and animals in the community. She works as a field coordinator and collaborates with the CDC, Haitian government and Christian Veterinary Mission, to implement public health interventions, whose primary goal is rabies surveillance, control, and prevention. She oversees all of the daily details of program implementation, which involves a tremendous amount of administrative, and logistical work.
Through her field coordination, the CDC is able to gather data and design studies on rabies prevention, which she then carries out. She works tirelessly on rabies control and prevention, helps educate her community and is wholly committed to eradicating rabies.
One of the CDC studies she was implementing, called "Investigation of Alternative Vaccination Strategies to Improve Canine Rabies Vaccination Coverage in Haiti,"  involved her organizing and leading hundreds of fieldworkers in administering over 10,000 canine vaccinations, gathering and reporting large amounts of data, drawing blood on multiple canines to assess vaccine effectiveness, walking several miles every day in the heat and dirt to find patients, educating the public on the importance of canine rabies vaccine, preparing thousands of vaccine vials, transporting hundreds of fieldworkers, and so much more.
Carrying out public health studies involves 12 to 15 hours days for several weeks at a time, with little break. While doing all of this, she also responds to people in the community who suspect their dog may have rabies and other health concerns. She is committed to improving the health of the Haitian people through rabies control and prevention.
She has had the opportunity to carry out multiple studies, with the exclusive intent of finding effective ways to eliminate canine rabies in Haiti. Throughout her work, walking throughout communities to vaccinate dogs, she also educates the public on the necessity of canine vaccination. She has educated hundreds of people on the importance of canine vaccination. She has also successfully opened a thriving veterinary technician school, which educates and trains veterinary agents in veterinary health care. 
(Excerpt from nomination)