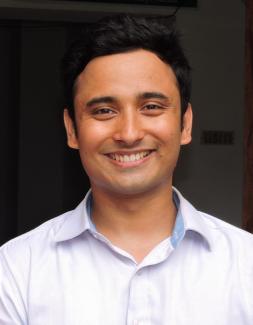 Dr Rakesh Chand has been working towards rabies elimination since 2012. He has been a clinician, researcher as well as an avid advocate for the disease. Since his veterinary student days he has actively participated in and organized events to fight rabies in Nepal. His time as the president of the Nepal Veterinary Students' Association allowed him to organize mass vaccinations and huge education and awareness events in Nepal for rabies prevention.
During an internship at the Central Veterinary Laboratory, responsible for the lab diagnosis of rabies cases, he was part of the team for the epidemiological survey during the outbreak of rabies in Chitwan. While working for the National Zoonoses and Food Hygiene Research Centre he organized a Rabies Week in Kathmandu, and coordinated the "Second National Symposium on Priority Zoonoses in Nepal: Rabies."
Dr.Chand has been featured on the national radio station, Radio Nepal, during World Rabies Day 2015 and 2016. His current research, as part of a Training Program  For  Asian  Veterinarians, organized by the Japanese Veterinary Medical Association on Tokyo,  is focused on rabies, and he presents the situation in Nepal regularly to international audiences. 
(Modified excerpt from nomination)