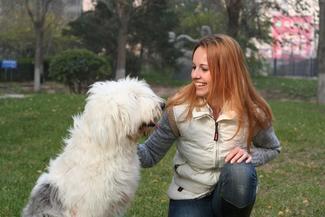 My work:
Dr. Sara Platto started her work in educating the public about rabies prevention and dog behavior since the 2010, when she developed a "Dog Bite Prevention program" for kindergartens in Beijing. During this time, Dr. Platto created short classes for the children to explain them how to properly interact with dogs to avoid accidents, and to parents about dog vaccinations and what to do if a dog or cat bites a person. From 2014, Dr. Platto started to give lecture to veterinary students about "Rabies Management program, where she explained how the different entities of a country can collaborate to develop rabies prevention programs. In 2017, Dr. Platto published a book "Matteo in Doggy World: how dogs show their mood" that talks about dog body language and rabies prevention. The book is bilingual, English and Chinese. Since 2017, Dr. Sara Platto set up a Rabies Vaccination and Education campaign in Wuhan (China) that is organized every year since then. In the same year of the first campaign, Dr. Platto asked her international department students to translate into Chinese all the educational resources available on GARC website to make it available for the Wuhan communities. The campaigns set up by Dr. Platto are sponsored by Boehringer-Ingelheim pharmaceutical company that donates rabies vaccines for the pets brought at the place of the campaign every year. In 2019, Dr. Platto was invited by the CDC in Chongqing (Center Disease Control - China) to deliver a lecture on Rabies Prevention, where she presented the rabies surveillance resources of GARC. In 2020, Dr. Platto set up an MOU between GARC and China Biodiversity Conservation and Green Development Foundation to support rabies prevention in China. Thanks to this agreement, all GARC online courses have been translated into Chinese to allow local professionals to develop an education on the
subject of rabies prevention.
Successes:
Rabies Vaccination and Education Campaigns: Starting in2017. She convinced a pharmaceutical company to sponsor her first campaign. During this first event, 100 dogs and cats received free rabies vaccines, including pets from a very local and poor Wuhan community. Every year the number of free vaccinated dogs and cats increased till more than 500 last year. In addition, during the campaigns, the translated educational material from GARC is distributed to the public, and speeches about the importance of vaccinating our pets are delivered to the public by different professionals. During these events, Dr. Platto has always had a special attention to the participation of the children. In fact, during each campaign, children groups from elementary schools have participated to deliver speeches about their involvement in stray animals rescue and the importance to vaccinate pets to protect everybody from rabies. I can say that Dr. Platto rabies campaign has grown bigger each year, with more people been involved each time, including local veterinary hospitals. 
Impact:
Beside the local Wuhan communities involved in the campaigns, different professionals around China (veterinarian, doctors, university professors) have been directly or indirectly involved in the educational work of Dr. Platto.
(content modified from nomination information)