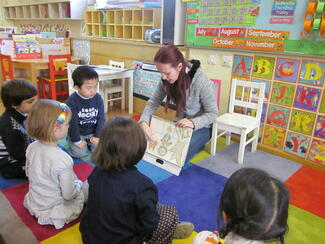 Description of your work
Dr. Platto's involvement in animal welfare, specifically concerning pet animals, commenced in Beijing, China. During this period, she established partnerships with local veterinary hospitals, where she conducted lectures on dog behavior and training. Furthermore, in 2010, Dr. Platto pioneered the "dog bite prevention program" for kindergartens, aiming to educate children, teachers, and families on appropriate interactions with both familiar and unfamiliar dogs, along with rabies prevention measures. At the same time, she crafted a story to introduce children to the subjects of dogs' body language, how to properly approach a dog, and rabies prevention. This narrative eventually evolved into the book "Matteo in Doggy's World: How Dogs Show their Mood" (available on Amazon). Between 2014 and 2017, Dr. Platto provided a lecture titled "Rabies Management" as part of the epidemiology course for graduate students at Huazhong Agricultural
University's Veterinary School (HZAU) in Wuhan, China.

In 2017, she established the first Wuhan Rabies Vaccination Campaign, engaging local veterinary hospitals, teachers, elementary school students, and researchers. This initiative has been sponsored by Boehringer Ingelheim, Zoetis, and Royal Canin, and it continues to be an ongoing event every year to this day. In 2017, in collaboration with her students, Dr. Platto took the lead in translating all educational content from GARC's website into simplified Chinese. This endeavor aimed to ensure that individuals in China could access these educational resources. In a similar vein, in 2020, Dr. Platto facilitated a partnership between GARC and the China Biodiversity Conservation and Green Development Foundation (CBCGDF), resulting in the translation of GARC's online course "Rabies Educator Certificate" (REC) into simplified Chinese. This initiative made the course accessible to a wider audience throughout China. Amidst COVID restrictions, despite the challenges of arranging in-person rabies vaccination and education campaigns, Dr. Platto persevered by transitioning the event to an online platform. In 2022, she organized a virtual workshop on Rabies Education in partnership with CBCGDF. This online gathering featured speakers from diverse fields – veterinarians, researchers, representatives from WOAH and GARC, as well as individuals from local communities in Wuhan – all sharingtheir contributions and involvement in the realm of rabies prevention and education.
In both 2019 and 2023, Dr. Platto received invitations from the ChongQing Center for Disease Control to present lectures to over 500 Chinese veterinarians. These sessions covered topics related to pet welfare as well as the employment of GARC tools, such as the Rabies Epidemiological Bulletin (REB), for monitoring and managing rabies. Currently, Dr. Platto has obtained approval to establish a Master's program in Animal Welfare at her university. Additionally, she is in the process of devising a project aimed at implementing animal welfare practices within veterinary hospitals throughout China.

Up to the present time, Dr. Platto remains dedicated to educating the public across China about dog behavior and rabies prevention. She accomplishes this through a combination of online lectures, workshops at local bookstores, and engagements with elementary schools.
Impact in numbers
During each Rabies vaccination campaign, we successfully administered between 100 and 500 free rabies vaccines each time, while our educational outreach managed to impact an audience of thousands. Furthermore, in the online rabies education workshop organized in 2022, we observed active engagement from a participant pool exceeding 10,000 individuals.
Impact (description)
The veterinary hospitals involved in the Wuhan Rabies Campaign provided feedback indicating a notable rise in pet owners seeking rabies vaccines for their animals. Additionally, local bookstores extended their collaboration to arrange further public lectures on dog behavior and rabies prevention. Moreover, the success of the Wuhan Rabies Campaign inspired the CDC of Chongqing city, as well as China Biodiversity Conservation and Green Development Foundation to plan a similar event.
Share a personal experience
As a veterinarian and animal welfare researcher, my enduring concern has revolved around the well-being of both animals and people coexisting in the same environment. Coming from a free-rabies country, I didn't truly comprehend the impact this disease could have on people and their animal companions, particularly children, until I arrived in China. This realization prompted me to initiate my educational efforts regarding dogs and rabies with kindergarten children of local schools in Beijing. Children, unfortunately, are the demographic most affected by dog bite incidents. Consequently, in the rabies campaigns I organize, children have always played an active role in the educational process. They don't merely receive information about rabies prevention; they also assume the role of educators, imparting knowledge to adults and utilizing any available tools to aid animals. For example, during a Rabies Vaccination campaign I organized in Wuhan in
partnership with Rui Pai veterinary hospital, I engaged elementary students from a local Wuhan school. These children created paintings centered on the theme of the "Human-Animal Bond," which were then auctioned during the campaign. The proceeds raised by the children were utilized to purchase food and rabies vaccines for a Wuhan shelter they selected. Through this initiative, the children illustrated that age isn't a barrier when it comes to assisting others, whether they be animals or humans.
Partners
GARC
China Biodiversity Conservation and Green Development Foundation
Boehringer-Ingelheim
Zoetis
Royal Canin
International Nice Pet Veterinary Hospital (Wuhan)
Rui Pai Hospitals
Wuhan local schools
Daisy and the Starlook Children (Wuhan)
Wuhan 6 TV
Huazhong Agricultural University (Prof. Guo Aizhen)
Jianghan University
Dr. Zeng Zheng
Infuna Clothing (Wuhan)
Serina Zhang
Wuhan Small Animal Protection Association
*Information adapted from nomination form submitted.