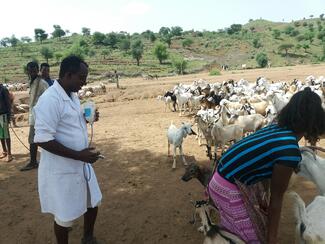 Description of your work
Dr.Uqubazghi Misgune is a senior veterinarian, working as a provincial veterinary officer and animal resources division head of the Debub administrative region. He has a vast experience in rabies prevention and control in the past 30 years. He organized mass vaccination campaigns for rabies, train the paraprofessionals on rabies epidemiology, prevention and control. sensitize urban dwellers, farmers and livestock herders on rabies.
Impact in numbers
28,675 dogs are vaccinated against rabies in Debub region and more than 30,000 urban dwellers, farmers and livestock herders sensitized for rabies disease. Debub is one of the six regions of Eritrea.
Impact (description)
Due to annual compulsory vaccination of dogs in Eritrea, particularly in Debub region the incidence rate of rabies reduced to insignificant level. Rabies vaccination campaign in urban and semi urban areas were
conducted in veterinary clinics on regular basis but in rural or pastoral areas mass vaccination campaigns was conducted in conjunction with other major livestock disease vaccination program like Sheep and Goat pox, PPR, LSD. During this time livestock herders usually brought their shepherd dogs with other livestock's for vaccination, and this creates a better relationships between dogs and peoples. seeing the restless effort of the veterinarian the local authorities support him by conducting the dog population census.
Share a personal experience
What makes him working in rabies is his regular observation of the disease in the field and veterinary clinics and changes he observed by applying the compulsory annual vaccination program. in addition to that the positive response he received from the urban and rural communities.
Partners
The Ministry of Local Governments and Ministry of Health
FAO (with the one health approach).
*Information adapted from nomination form submitted.