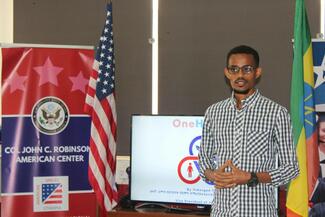 Description of your work
Poor public education on rabies prevention control and neglected diseases with less focus on its burden and control are the key gaps identified in Ethiopia's national rabies control and elimination strategic plan. Hence, my rabies education work is vital to support the national rabies control and elimination strategic plan.
I believe that rabies education has great potential to eliminate rabies. Accordingly, I started rabies awareness campaigns. My advocacy work focuses on aligning vaccination campaigns with rabies education and I have conveyed many lessons using social media platforms; Furthermore, I have organized rabies information sessions via virtual meetings for students and professionals in collaboration with the U.S. Embassy Addis Ababa, American Corner spaces here in Ethiopia, OHCEA/AFROHUN Ethiopia, and various institutions and delivered awareness creation sessions on the subject matter.
Employing digital platforms, I produce articles and videos that can easily reach a multitude of people in local languages so that many people can learn and increase their understanding. With more than 16 thousand followers on my Facebook page alone, I have informed many of rabies disease and its consequences. Besides, I report on what is happening in the country regarding rabies campaigns and anything related to the disease.
I also participate directly in the rabies campaign. In all the vaccination campaigns I go to, I take my volunteer friends with me, which creates great potential for our vaccination campaign.
I use the American corner space in Ethiopia to strengthen the lessons I give and to teach the community about the nature of rabies, vaccination, and how to prevent it, both in person and in virtual meetings. I was able to understand from the comments that many people gave me that this is where many people learned from.
In Ethiopia, instead of vaccinating dogs, dogs are killed using poison, for example, by using strychnine, as part of dog population management. To tackle this, I made a short video that teaches that killing a dog with poison is a big mistake and that it should not be done, which was watched by many. I taught well that we don't have to kill dogs to eradicate rabies.
Mass dog vaccination campaigns that are aligned with advocacy are held in every region of our country and we have seen government officials participating, advocating, and expressing their commitment in mainstream media. I will continue to strengthen what I have started and continue to work together with all the health professionals and the institutions I have worked with so far, by developing a way to teach so that rabies can be eradicated from our country and the world.
To continue to bring a bigger impact and to support Ethiopia's national rabies control strategic plan with research currently, I am working as a researcher on a project entitled Determining Factors Affecting Control and Elimination of Dog-mediated Rabies in Ethiopia: Challenges and Strategic Action Points.
Currently, I'm supporting the Ethiopia National Rabies Technical Working Group in advocacy and community mobilization. This year Ethiopia is celebrating world rabies day on October 2, 2023. I also serve on the organizing committee in particular he is serving as a secretary joining experts from the Ethiopian Wildlife Authority, Ethiopian Veterinary Association, Ethiopian Public Health Institute, Ethiopian Ministry of Health, Ethiopia Ministry of Agriculture, Food Agriculture Organization, John Hopkins University, and CORE Group.
Impact in numbers
In 2018 with OHCEA/AFROHUN:
A total of 3405 Primary and Secondary school Students, and

176 community members were taken awareness for successive 10 days both in morning and afternoon sessions.
In 2019 with OHCEA/AFROHUN:
A total of 85 community members were taken awareness for successive 3 days in

morning

sessions.
With Jimma and American Corners (U.S. Embassy Addis Ababa):
In-person sessions in 2018-2019: 87 and 65 respectively.

Virtual sessions in 2021, 2022, and 2023: 43, 54 and 59 respectively. In 2020 with Addis Ababa University College of Veterinary Medicine and Agriculture in collaboration with the Ethiopia Ministry of Agriculture, Bishoftu town, and the college:

A five-day Rabies education and vaccination campaign at Bishoftu town.

Covered all kebeles within Bishoftu town and more than 2,750 community members were aware of rabies for

successive

5 days covering

schools

and

public

areas.
In 2021 and 2022 with Addis Ababa City Administration Famers and Urban Agriculture Commission, VSF-Germany, and Global One Health Initiative:
So far, in Addis Ababa – in four sub-cities (Akaki Kality, Arada, Addis Ketema, and Lideta), more than 14, 000 community members get rabies awareness creation.
Impact (description)
When I was a student at Jimma University, I began educating people about rabies. This is a result of the rabies vaccination campaigns and awareness events that I spearheaded while serving as the president of the Jimma University One Health Innovation Club. Based on this, I was able to spread awareness of dog rabies throughout Jimma City and to vaccinate a large number of dogs, which helped to lower the incidence of rabies in Jimma Town and increase the number of dogs that are kept inside homes.
Following that, in my final year of education at Addis Ababa University College of Agriculture and Veterinary Medicine, alongside other students, we created an outstanding membership that we named "Beyond Students for Change" As the name indicates our main objective is in helping students to think outside the box and to make them problem solver for the country. Moreover, among the works we have done the front stated one is our effortless deed in creating awareness about rabies by reaching out to high schools and elementary schools using a banner that shows a great description of rabies bite that is: on how to get along with the dogs, indicating them the symptom that the dog shows and mainly on how to protect themselves. This has been achieved with the help of other projects and animal welfare clubs at the university level. Therefore, by creating awareness in this way we believe that we have reduced rabies bites.
I have seen a better relationship between dogs and people. Those people have used social media platforms to attract others who have the same ambition just like them. They named it "animals need attention" These groups have more than 500 members and thousands of followers. The amazing thing here is these communities do not know each other very well What makes them work together is the love for animals especially the work on pets. They inform each other of the group they have created when there is a pet that needs attention and care that is lost on the street. They give them shelter, love, and care.
Share a personal experience
My inspiration to rabies started in my childhood. I was bitten by a dog four times. As a result, I developed fear for dogs. I was worried that a dog would bite me if he saw me. The more serious concern was if dog is infected with rabies, they could transmit the disease.
I had a profound experience when working on rabies at Jimma. I had a good opportunity to educate children in different schools. During at externship at Addis Ababa I had the privilege to continue the rabies education. In that I managed successful rabies education campaigns.
Partners
Jimma University, Jimma City Administration, Addis Ababa City Administration Urban Agriculture and Farmers Commission, Ministry of Agriculture,Addis Ababa University College of Veterinary Medicine and Agriculture, Bishoftu City Administration,
AFROHUN, VSF-Germany, Global One Health Initiative,
National One Health Steering Committee, National Rabies Technical working Group, national animal welfare working group
Private agencies such as the American Embassy, American Space corners in Jimma and Addis Ababa and Elnet Foundation.
*Information adapted from nomination form submitted.