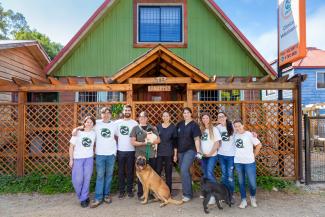 The Global Alliance for Animals and People (GAAP) works in vulnerable, often indigenous communities in Guatemala, Peru, Chile and northern Canada to prevent zoonotic diseases such as rabies. Their approach to rabies prevention is through annual rabies vaccination of dogs and cats and the education of children and pet owners about responsible pet ownership, bite prevention and disease prevention. These two methods have been shown to be critical in the sustained elimination of rabies in communities.
The GAAP works with pet owners to help them understand the importance of preventive care, regular vaccination, and deworming of their animals. It also offers Community Days and a school program for children, full of rabies-based games and activities that focus on understanding the disease, responsible animal ownership and maintaining personal safety in the face of animal attacks.
Some examples of their work:
Education about responsible pet ownership and disease prevention:
Over the past year, the GAAP has developed a seven-module education program for children aged 7 to 14 years. Each module explores a different disease, health, behaviour or responsible ownership topic in-depth and all the modules are based on participatory learning and engaging activities.
So far in 2019, they have delivered the education program to over 3,500 children in Chile, approximately 1,000 children in Guatemala and will be expanding this program to Peru in early 2020.
Vaccination of dogs and cats:
The GAAP works with Mayan people in Guatemala to provide equal access to veterinary care through our telemedicine program, by providing vaccination and sterilization campaigns to community members, and by educating school children and dog and cat owners about rabies and the importance of vaccination. Their approach is based much more on delivering integrated veterinary care that includes a full Health Plan comprised of physical exams for each animal, deworming, all vaccines required and educating the owners about appropriate care, rather than just focusing on the rabies vaccination on its own. 
In 2018, they delivered Health Plans to 613 dogs and cats, sterilized 249 dogs and cats and 64 dogs received veterinary care through their telemedicine program.
In Chile, they work with families at their community veterinary clinic to help them understand the importance of being a responsible pet owner and how that contributes to the prevention of many diseases, including rabies. In 2018, they provided Health Plans to 934 animals from 813 families and 21 dogs owned by homeless individuals and administered 383 rabies vaccines to dogs and cats.
(GAAP communication)