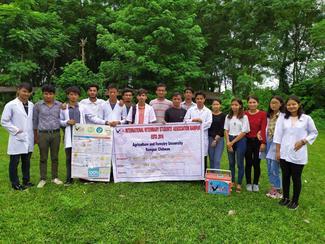 Our work:
Awareness: IVSA Rampur is involved in various awareness activities such as distributing posters and pamphlets to the people of different localities, educating in vulnerable places regarding the risks and solutions of rabies especially the buffer zones near national parks, presentations in schools for awareness among children, a radio talk show on rabies, street drama on different places to attract the audience and aware them. IVSA Rampur is also involved in awareness through the use of social media by posting
posters related to the facts on rabies and sharing articles.
Vaccinations: IVSA Rampur is involved in vaccination of dogs and cats every year for a week ending on the rabies day. Also free vaccination to owned dogs is done during animal health camp on different time of the year. Vaccinations of street dogs and free vaccination to pet dogs each year is done to increase herd immunity and also train future vets at the same time.
Training and competitions: Training related to vaccination, neutering, animal handling, etc., are done during the rabies week targeting the veterinary students to increase their confidence and a better vaccination and neutering results in the future. Different competitions as presentation competition, photo competition, essay writing competition, art contest, etc., has been fruitful and informative to the audiences and participants as
well.
Successes:
IVSA Rampur has made people aware of rabies, its causes and its prevention and control. School students taking the awareness presentation scored higher in the tests carried out with questions about rabies. People
changed their concepts regarding vaccinations and started vaccinating their dogs and cats. The number of people with superstitious beliefs decreased as they began to trust in medical doctors after dog bites. The number of rabid dogs in the locality decreased due to the vaccination done in the localities by IVSA. Vaccination programs also increased the confidence of young vets and decreased error chances in further
vaccinations. Training and competitions by IVSA Rampur helped veterinary students gain knowledge and confidence. It helped create a healthy competition among fellow students and increased their skills in presentations too.
Impact:
The whole district has been benefitted directly due to free vaccination program for about 3000 people and 1000 dogs and cats each year. Indirectly benefitted people are even greater than this.
(content modified from nomination information)