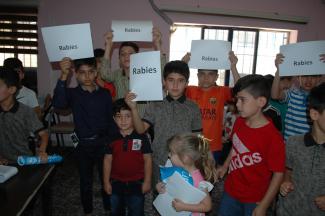 The Kurdistan Organization for Animal Rights Protection (KOARP), works to educate and raise awareness among the public to love, respect and care for all animals and protect themselves from rabies by organising seminars, slide shows, fun quizzes and interactive games in kindergarten, schools and children's centers about zoonotic disease and especially rabies. It works to introduce animal welfare into the educational system. KOARP informs and interacts with the public via social media (newspaper, magazine, T.V Radio, FBetc.) about zoonotic diseases and rabies in particular. 
KOARP is also working to introduce animal protection laws in Kurdistan, and its draft law was sent to the  Iraqi Parliament in 2016. The draft law has many articles about the roles and duties of pet owners. It is trying to get the government to change the law that allows the killing of stray dogs, and instead implement new modern and scientific ways to manage the growing stray population. 
KOARP also rescues abused, neglected and abandoned animals, and promotes adoption, treatment and vaccination. 
 
As a 2016 World Rabies Day Award recipient, KOARP used its award to support rabies education workshops for farmers, children and veterinarians. 
(Modified excerpt from nomination)