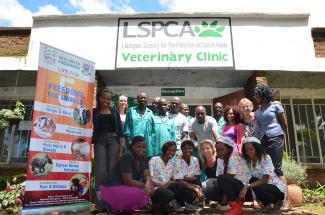 The Lilongwe Society for the Protection and Care of Animals (LSPCA) is a non-profit organisation dedicated to veterinary care and animal welfare, building compassion for animals in Malawi through public awareness campaigns, humane education, veterinary support and by promoting the enforcement of the Animal Protection Act.
The LSPCA veterinary clinic is open to the public and all funds raised through the clinic support on-going community veterinary projects as well as its rescue, confiscation and rehoming programme.
The LSPCA, in collaboration with Malawi's Department of Animal Health and Livestock Development, and supported by Welttierschutzgesellschaft from Germany, has just completed a 3-year-long Urban Rabies Vaccination Campaign in Lilongwe. The campaign successfully vaccinated at least 70 per cent of the city's dog population. All vaccinated dogs were recorded in a database and marked with a specific colour to prevent double vaccinations. The dog owners furthermore received a vaccination certificate with comprehensive information to help protect themselves and their families against rabies. 
 
The campaign was accompanied by widespread educational efforts, which were conducted by a trained education team of 30 people. Since in Malawi children are the main caretakers of animals, they are especially in need of extensive educational work. Furthermore, the wider public was reached through posters, leaflets, banners as well as media activities (press releases, radio/TV spots).  
 
Beyond the Lilongwe vaccination campaign, the LSPCA will continue to conduct mobile clinics in rural parts of Malawi, which will also include rabies vaccinations of dogs and other animals.
(Excerpt from nomination)