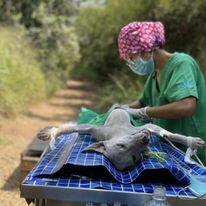 Description of your work
Gridsana Laksana (Cooky) is a Rescue P.A.W.S. veterinarian that joined the organization in September 2021. Rescue P.A.W.S. is an animal welfare organization in Thailand and our mission is to improve the welfare of cats and dogs in our region by sterilization, education and preventative healthcare. This in turn helps create healthier, safer communities for people and animals alike. Rescue P.A.W.S. offers free sterilization and Rabies vaccines to low income families and also runs a Trap-Neuter- Vaccinate-Release program for stray animals. In addition to vaccinations and sterilizations Rescue P.A.W.S. provides free veterinary care for ill and injured cats and dogs. Community is at the heart of everything that we do which is evident from our daily Out Reach program, where we feed, parasite treat and care for animals in our community. Rescue P.A.W.S. also runs a dedicated Animal Welfare education program and a rehoming service.
Impact in numbers
Cooky has been nothing short of amazing and has enabled Rescue P.A.W.S. to grow and develop in ways we could only have dreamed of.
Her work ethic and passion for Rescue P.A.W.S. mission and animal welfare is inspirational. Her positivity and passion radiates through the team and uplifts and motivates everyone around her.
Since joining Rescue P.A.W.S. nearly two years ago she has:
- sterilized over 6000 cats and dogs,
- Rabies vaccinated over 5000 and
- provided life saving treatment to hundreds of ill and injured animals.
Due to Cooky's hard work Rescue P.A.W.S. will hit 10,000 sterilizations by the end of 2023! Under Cooky's guidance our Out Reach team is able to reach more animals in need. Rescue P.A.W.S. Out Reach program not only helps animals, but we also support local animal welfare advocates by donating dog food, medical
care, vaccine drives and parasite treatment, which allows our work to have a far further reach. As many struggle to bring animals to Rescue P.A.W.S., we mitigate this problem by taking the hospital on the road and organizing monthly spay and vaccine events in our neighboring communities.
Since starting our work in 2014 Rescue P.A.W.S. has:
Sterilized over 9000 animals, Vaccinated nearly 15,000 cats and dogs against Rabies, Parasite treated over 20,000 animals, Found homes for 600 cats and dogs, and provided veterinary treatment and care for over 20,000 patients. We have also taught animal welfare and rabies awareness to over 10,000 children since starting our education initiative two years ago.
Cooky's tireless work, passion and positivity has helped Rescue P.A.W.S. grow to the organization we are today.
Impact (description)
As Rescue P.A.W.S. operations have grown, we have witnessed positive changes in the community. Though our work is not done, we are seeing less and less unwanted litters being born on the streets. In addition our little clinic has become the hub of the community, where people know they can seek help for their pets and stray animals in their area. Creating positive community relationships has been the key to being able to provide veterinary care and vaccines in a larger scale.
Share a personal experience
Rabies is called a neglected tropical disease and most of its victims are children and people in marginalized communities with poor access to health care and education. Though eradicated in many parts of the world,
Rabies still remains a threat in Thailand and in 2023 we have seen a stark increase in human cases.
This in mind Rescue P.A.W.S. started a new initiative in 2023, that feels close and personal to all of Rescue P.A.W.S. staff. Our region of Prachuap Khiri Khan shares a long border with Myanmar. Due to to ongoing conflict in Myanmar many people have escaped to the safety of Thailand. Often living in make shift villages, with very little, these people have no access to medical or veterinary care. Dog and cat vaccine and sterilization rates are zero in some of these villages and Rescue P.A.W.S. recognizes this as ticking time bomb for a potential Rabies out break. Our Out Reach program visits these marginalized communities to provide vaccinations, sterilizations, parasite treatment and education. So far we have fully completed one village, but there are many alike and our work will continue to improve the welfare of the animals and to safe guard the people from Rabies infection. These communities are extremely vulnerable as they have no means of accessing help, unless the comes to them. For this reason we will continue to visit these villages and hopefully help keep them safe.
Partners
We work closely with the:
local municipalities,
religious leaders ,
schools and
The Department of Livestock Development to create sustainable long term change for the better.
*Information adapted from nomination form submitted.