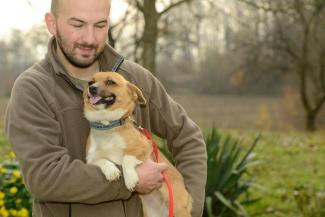 Bojan Veselica has taken on responsibility for well over 300 dogs at a shelter in Prnjavor, in addition to 30 or more dogs at a nearby foster home. Thanks to Bojan the shelter has changed from a kill-shelter with appalling facilities for dogs to something that is coming close to being a 'model' shelter in Bosnia, caring for strays of the area.  
Bojan started visiting Prnjavor public shelter because he loved dogs and knew that the dogs were starving or being fed nothing but stale white bread, and not getting any veterinary treatment, rabies vaccinations or sterilisation. The conditions were catastrophic. One month after that first day there, he was handling everything for the dogs.
For a year he had no help at all with fundraising. He fed the dogs with slaughterhouse leftovers and out of his own pocket. There was no food, no medication, no sterilisation, nothing at all. He paid for the dogs to get vaccinated, sterilised and slowly with the help of Facebook and supporters from around the world, he was able to fundraise to improve conditions considerably and to move the dogs to a much better facility. A priority has always been adequate vaccination to prevent rabies and other diseases, and it is his first priority for any dog from the area that is brought to the shelter. No dog is adopted out without being vaccinated first, and Bojan is actively attempting to do rabies vaccinations and spay-neuter release.
(Excerpt from nomination)