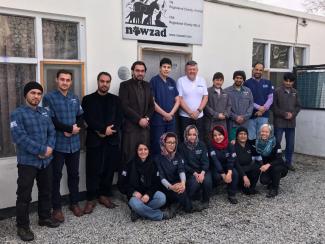 Rabies poses a vast threat to the people of Afghanistan. Nowzad has had a presence in Afghanistan for 10 years. and its rabies prevention has proven to be extremely successful - not an easy task in a war zone! They not only vaccinate dogs against rabies, but cats and even cattle too. They also carry out vital veterinarian student training to reduce rabies as well as education to children and the general public.
Their work has been done in migrant camps, with international NGOs and Governmental bases of operations (e.g. UK and US Embassies), remote villages, general populations of Kabul and surrounding areas - both human and canine, students at the Kabul University, and at schools and orphanages via education.
Where possible they are implementing their humane trap – neuter – vaccinate – return program. Another aspect of their work is providing a free spay/neuter service to local Afghans for their beloved dogs and cats as well as free vaccinations for the animal. This in turn increases the demand for dogs and cats as domestic animals and part of a loving household as Afghans can be safe in the knowledge that they will get a 'clean', vaccinated pet.
(Excerpts from nomination)