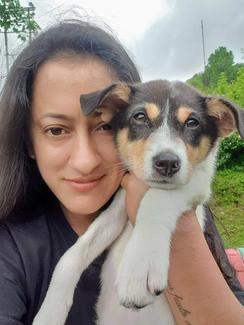 Description of our work
I am nominating our NGO Director, Pratibha Rana, for her tireless work and passion for helping street dogs/animals in the community for the past 6 years. She started working on getting dogs vaccinated for rabies and sterilized in her hometown of Palampur (about an hour from Dharamsala Animal Rescue) at the local veterinary college. She knew that this was the best way towards a better life for humans and dogs. After seeing all the suffering and not knowing how to help beyond sterilization and vaccination, she went to volunteer at DAR for 4 months in 2016 to learn treatments, first aid, and more. She then tried to start her own NGO in Palampur with her sister, relying on DAR and the Vet College for surgeries and treatments, while keeping dogs at her place for post operative care. Pratibha was hired as NGO director for DAR at the beginning of the pandemic. DAR never would have made it through this time if not for Pratibha. Because of her connections with vets at the Palampur Vet College, with the local Superintendent of Police, and more, DAR was able to keep running its core programs: Animal Birth Control/Anti-rabies, and rescue, adoption, through the lockdowns with the addition of a street feeding program. She and her sister were even attacked by a mob at their home who were furious with them for feeding and caring for dogs in their area.
To get dogs vaccinated in India, is no small feat. Unless you are confident, passionate, have family support, organizational support, and more, giving up would be easier. Today, Pratibha is planning her second annual Mass
Rabies Vaccination Camp for the town with a goal of 2,000 dogs. This is not enough to eradicate rabies, but in her second year of planning, more locals are volunteering, better relationships with feeders have been secured, and the Government Vets will also be assisting, for the first time in years.
Impact in numbers
DAR has been around since 2009. Since the beginning, we have helped over: 18,000 animals.
Sterilized: 5,475

Administered Rabies Vaccines: 10,078 Rescued: 8,076

Adoptions: 186

Humane Education Program in Schools (2017 - 2019) 1,568 children educated on how to be kind to dogs even if you are afraid of them.
Impact (description)
It has only been since 2016 that RIG was available at the hospital. Prior to that people had to go to Chandigarh, about a 5-hour drive away if it was needed. Due to some pressure from DAR, the protocol was finally available for humans. In 2019, with a meeting of DAR and the Chief Medical Officers of our district, over 7,000 people had been bitten by dogs. We do not know if this is higher or lower than before, and this only counted people who came in for their first vaccination. It is not recorded if the second or third were ever taken. Also, in the villages (which we also know) people will listen to their local pundits/priests to keep rabies away and not the medical advice.
What we have seen is that more people now go to the hospital if they have been bit due to our outreach programs in person and on social media. But due to poor record keeping, lack of extended education efforts, bad information keeps spreading.
On a good note, in the past few years, the relationship between stray dogs and people has improved. Many people are taking care of the stray dogs and feeding them and trying to help them. The younger generation is more involved in caring for animals. We see more people keen for sterilizations and getting the animals around them vaccinated.
People especially the younger ones sometimes offer to drop the injured animals to us for treatments and understand our resources and constraints. Due to more feeders and caretakers, the vaccination process becomes easier making it possible to cover a greater number of dogs.
Please watch our Rabies Education video from 2020: https://youtu.be/32hrMH6zrHg
Please see our Rabies Quiz on our site: https://dharamsalaanimalrescue.org/suraj-says-take-rabies-quiz/
Please see how population survey and targeted are info here: https://dharamsalaanimalrescue.org/dog-population-management-plan- in-dharamsala/
Share a personal experience
Pratibha in her own words:
I have loved animals since childhood but felt even more connected when I saw animals suffering and dying on the roads without any help. I decided to help them and came in contact with DAR to learn treatments and other basic things in 2016. I started getting the dogs vaccinated and sterilized from Palampur Vet college in 2015, and then got support from DAR and since then I never stopped. Helping animals helps me in keeping me sane. I love being around them and there is nothing else I can think of doing other than this. They understand the feelings and are able to respond back to love or hatred. When I see the dogs wagging their tails when they see me around, it just makes me feel like a queen. They give me happiness, and this is the only thing that keeps me going. I feel that I was made for helping and working for them only.
Deb Jarrett on Pratibha Rana:
If not for finding Pratibha, I would have had to close our project. The stress of keeping this project going is unimaginable. Just the work is takes to keep NGO paperwork in order in India is mind boggling, along with the ineptitude of most professionals. It is nearly impossible to keep veterinarians, as all want to work in government jobs where they have job security for life and benefits for their entire families. Families pressure to live at home makes it impossible to keep vets from out of the area longer for a few months. Finding someone as dedicated as Pratibha who constantly tells me I cannot shut down our NGO because it is the only hope for the area to improve the welfare of the animals, and eradicate rabies is what keeps me going these days. She is resourceful, smart, and thinks outside the box to find solutions to situations. She almost died of Covid this year and still has some long term health issues, but not even that slows her down.
She is a joy to work with, and we give each other the strength to keep moving forward even with the incredible number of issues.
Please watch her employee video here: https://youtu.be/L-ScG9c_V4s
Partners
Department of Animal Husbandry,

Palampur Vet College,

local feeders/ caretakers.
*All information supplied by nominee*