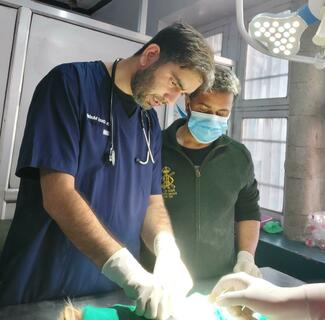 Description of your work
I have performed more than 5000 prophylactic anti-rabies vaccinations in canines and felines and 2254 post bite anti-rabies vaccinations in animals having history of dog and cat bites thereby reducing the incidence of rabies to almost nil in the area.
Impact in numbers
Educated almost 5000 pet owners regarding role of vaccination in preventing Rabies. I am conducting routine prophylactic anti-rabies vaccination in all pets bought in hospital OPD who are more than 3 months of age. Strict post bite Anti Rabies Vaccination (ARV) schedule is also followed in cases having bite history. Am also educating animal owners that have bovines & equines with a history of bites (dog, cat, or wild animal bites, etc.) regarding the role of post bite vaccination in preventing rabies. I have administered 5000 prophylactic anti-rabies vaccination shots in canines and felines and 2254 post bite anti-rabies vaccination shots in animals having history of bites. Have conducted 622 sterilization procedures in dogs & cats. In addition to above I am conducting routine elective and emergency surgical procedures on daily basis.
Impact (description)
The incidence of Rabies has been reduced to almost nil in our area by educating masses regarding the role of Anti-Rabies Vaccination and making prophylactic vaccination mandatory to all the pets visiting hospital. Not a single case of Rabies has been reported till date from November 2021 in the hospital. Further by educating the masses regarding the behavior of dogs, especially during breeding seasons, and the provision of food & shelter for strays has definitely helped better community relationships between dogs and people. There has been a lot of support from my department regarding treatment, vaccinations, surgical corrections, etc. The Department of Animal Husbandry Kashmir is providing various medicines, vaccinations, surgical items, etc. on subsidized rates so that every animal owner can afford treatment and care for their animals. Moreover, the Department has also kept provision for free treatment of stray and destitute ownerless animals who are in dire need of help and treatment.
My personal experience with rabies
Some 5 years back I saw a dog dying of Rabies, He had history of bites from a rabid animal but owner had not seen a vet for his treatment neither any post bite vaccination was done. It was very painful for me to see him dying in a very bad state. Since the disease was manifested and almost all symptoms like drooling of lower lip, profuse salivation, tenesmus, priapism, hydrophobia, etc. were present. I was not able to do anything and ultimately the dog died in almost 18 hrs. Postmortem findings of Rabies was confirmed by presence of Negri bodies in brain. The whole family of owner was in pain and agony due to such painful death of their pet. That day I decided to work extensively for Rabies Control Programme and by the support of the department have been able to succeed to a great extent.
Partners
Department of Animal Husbandry Kashmir.
The services of Ms. Purnima Mittal (Director Animal Husbandry Kashmir) are appreciable & acknowledgeable in making all the facilities available free of cost to all the animal owners. Various medicines and vaccines are also kept available on subsidized rates in the hospital dispensary. Provision of free medicines and vaccines have also been kept for strays & ownerless animals by Directorate of Animal Husbandry Kashmir.
*All information supplied by nominee. Content edited for language and formatting only*