Communicating rabies information whilst supporting schools
In celebration of Rabies Awareness Month in the Philippines this March, GARC and the Department of Education (DepEd) are collaborating to include a rabies information campaign as part of the Brigada Eskwela Program for schools. 
Brigada Eskwela (National Schools Maintenance Program) is a yearly activity conducted in all public schools a week before the start of the school year. Embracing the spirit of the bayanihan (the spirit of communal unity, work and cooperation), Brigada Eskwela brings together teachers, parents, and community members to help clean and prepare the schools for the opening of the school year in June.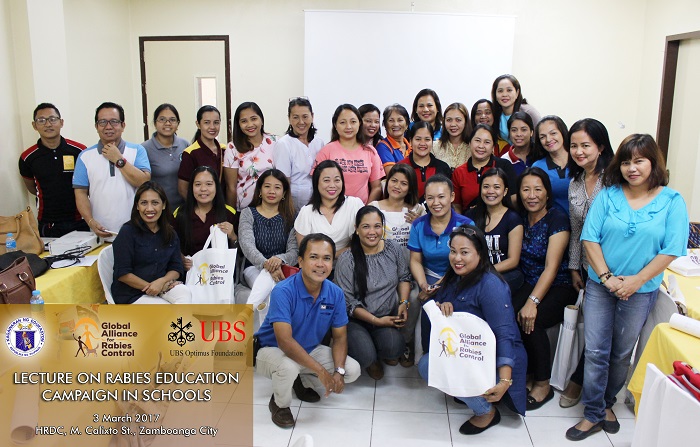 The Brigada Eskwela program has been effective for the  DepEd in ensuring the wellness and safety of the students throughout the school year, as well as promoting strong partnership and collaboration among various groups. As a result of these strengths, the week of Brigada Eskwela makes a suitable avenue for increasing rabies awareness among children as well as teachers, parents, and the whole school community.  Consequently, DepEd released a Memorandum (DepEd Memo No. 34, s. 2017) to support rabies awareness and prevention through Brigada Eskwela for elementary and high schools.
Using the Rabies Educators Certificate (REC) Course, selected DepEd health teacher-coordinators and social mobilization coordinators will be trained to create a pool of rabies educators who can serve as resource speakers during the rabies information campaign of Brigada Eskwela. This will be conducted among selected areas in the country with high animal and human rabies cases.
On March 3, the first lecture on the rabies education campaign in schools was conducted in Zamboanga City Schools Division. A total of 29 school health and social mobilization coordinators passed the REC. The passers are then expected to cascade the information to their respective districts and schools. Representatives from the local government animal and human health offices were also invited to discuss their ordinances and programs in their locality.  Further lectures are scheduled for other regions of the Philippines over the coming months. Participants during the first Lecture on Rabies Education Campaign in Schools held in  Zamboanga City.  
Contributed by Eunice Mendoza, GARC's Community Education Officer in the Philippines.  Read more about Brigada Eskwela in an inspiring article by teacher Lilio Tuares Carreon Jr. here