One Health in action: Rabies elimination efforts in the Philippines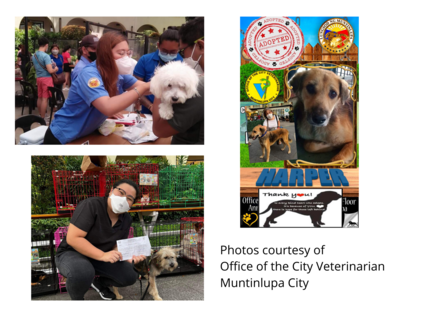 It is no secret that rabies can be eliminated. There are already countries that have proven that it is possible, yet many countries still struggle with rabies, mostly in Asia and Africa.
In the Philippines, there are around 200 human deaths every year due to rabies. In reaction, the Philippines government implemented a national strategy that includes the celebration of National Rabies Awareness Month (RAM) – a month dedicated to raising rabies awareness and educating the population about rabies throughout March every year. These celebrations are conducted in addition to those celebrations during World Rabies Day (WRD) on September 28.
National government institutions and local government units (LGU) lead activities to celebrate RAM within their respective communities. The One Health approach was central as human and animal health sectors from government and private institutions, together with other stakeholders, collaborated in celebration of these activities. Mass dog vaccinations and education campaigns focusing on responsible pet ownership, bite prevention, and bite management were among the common activities conducted.
Some standout activities that were undertaken this year during RAM included free pet vaccinations, sterilizations and primary animal healthcare offered to pet owners in Pasig City. These activities were undertaken by the National Rabies Prevention and Control Committee (of which GARC is a member), led by the Department of Agriculture and the Department of Health. The NRPCC partnered with the City Government of Pasig, private organizations, and non-government organizations in a truly One Health manner. The GARC team drove the education aspects by distributing education materials such as foldable fans, activity books, and stickers.
The Research Institute for Tropical Medicine (RITM) partnered with GARC to promote one of the episodes of their online program RITM-Live: Ask the Expert Series which focused on rabies prevention and treatment. The online program aims to promote scientific knowledge to the public, and in observance of RAM, RITM Animal Bite Treatment Center Head Dr. Joseph Castellano shared his expertise on rabies prevention and highlighted the importance of completing the post-exposure prophylaxis regime when bitten or scratched by a dog or cat. Health practitioners from government and private institutions as well as the general public attended the lecture.
Strong partnerships among the various sectors were evident as different rabies awareness and prevention activities were celebrated around the country. In Valenzuela City, private organizations and animal clinics donated dog and cat food, multivitamins, and deworming medicines for the animal rescue center. The City Veterinary Office of Binan, Laguna also provided free anti-rabies vaccines for dogs and cats, as well as other veterinary services such as spay and neuter campaign in partnership with organizations and local associations.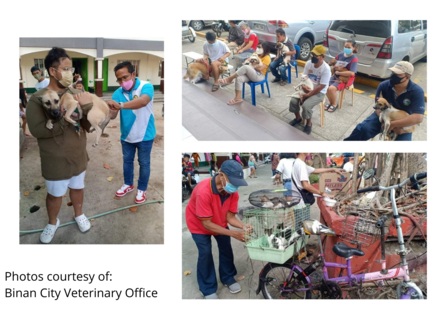 Dr. Jimel Orprecio from the Office of the City Veterinarian (OCV) in Muntinlupa, shared how their partnerships with non-government organizations helped the LGU in raising awareness. For example, their collaboration with Junior Chamber International (JCI) Alabang helped them to promote adopting pets from the city pound. This partnership "has really opened doors and gave us access to new tools to promote our adoption program and to further raise awareness and shed some light on the importance of Animal Welfare," says Dr. Orprecio.
In Naga City, the St. Roch Animal Bite Center took part in rabies awareness campaigns led by the Naga City Veterinary Office. "On our daily interaction with our patients, we learned that there are still some misconceptions about rabies disease and its prevention," shares Ms. Eva Marie, head nurse of St. Roch Animal Bite Center and REC graduate. Nurse Eva noted that these misconceptions affect the treatment-seeking behavior of animal bite victims. This motivated Nurse Eva and her team to team up with the City Veterinary Office to raise rabies awareness in their community. By partnering with the local government, Nurse Eva and her team reached and educated more people about rabies.
It is evident that collaboration among different sectors is vital in eliminating rabies and that rabies presents an ideal example of operationalizing One Health. By collaborating both within and across sectors, we are able to significantly increase the impact of any rabies control and elimination efforts. The Rabies Awareness Month celebrated this year in the Philippines provides many different examples of One Health in action and we hope to see similar collaboration for the upcoming World Rabies Day celebrations. Remember to begin planning your event (hopefully a One Health event) and register it on the global platform for recognition and to join the global movement to achieve Zero By 30.  
Article contributed by: Eunice Mendoza