Revamped GARC Website: Easier Navigation towards Rabies Elimination
We are thrilled to announce some exciting updates to the GARC website, specifically on the 'Resources' and 'Tools' sections. As part of our ongoing commitment to provide valuable and accessible information to all stakeholders in the fight against rabies, we have revamped these sections to better serve your needs and enhance collaboration in eliminating this deadly disease.
Resources Section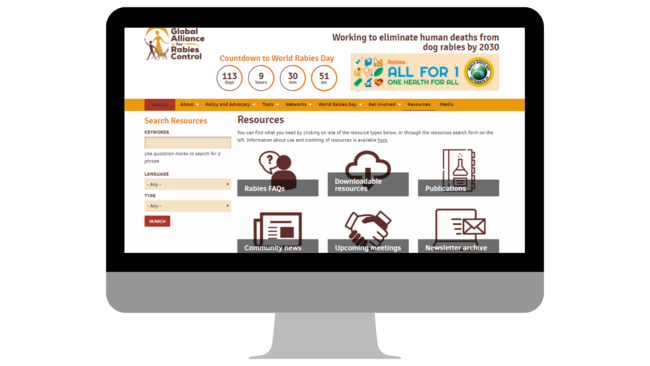 Looking for rabies information and related materials has been made easier. In our revamped Resources section, you'll find categories such as Rabies FAQs, Downloadable resources, Publications, Community news, Upcoming meetings, and Newsletter archives. You can also type the keywords in the search box and customize the language and resource type if you are looking for particular resources.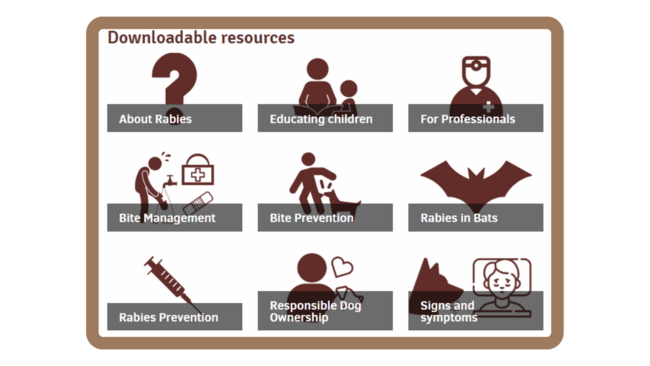 With the number of available resources on rabies, we are aware that it can be overwhelming to locate the materials that would fit your specific need. Thus, we made it easier for you to navigate our Downloadable resources section and be able to download the materials for free, of course. The education materials are categorized into the following: About Rabies, Educating children, For Professionals, Bite Management, Bite Prevention, Rabies in Bats, Rabies Prevention, Responsible Dog Ownership, and Rabies Signs and Symptoms. This can help you to easily find the resources that are most applicable to the message you wish to convey or to your target audience. We have also done a full audit of our resources, ensuring that the most up-to-date and relevant resources are listed to help you find the latest and best information available to raise awareness and drive rabies elimination in your area. 
Tools Section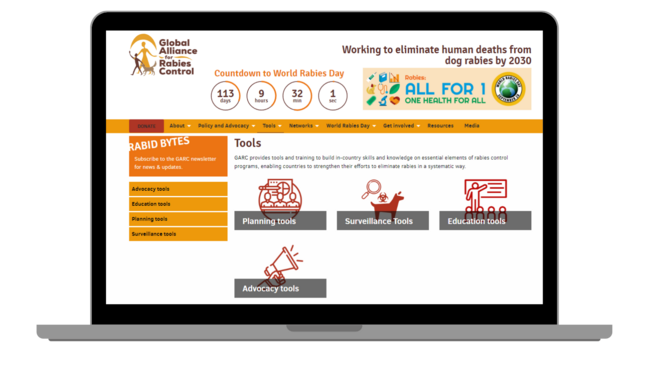 In addition to the improvements in the 'Resources' section, we have also revamped the 'Tools' section of our website. Here, you'll find the various tools that GARC offers to strengthen the rabies elimination program in your communities. And to make the navigation easier, each category is neatly labeled and represented by an icon. Here's what you can expect in every category:
Advocacy Tools:
This section highlights programs and activities towards the goal of rabies elimination. Among the advocacies you may find here are the World Rabies Day, End Rabies Now campaign, and various case studies demonstrating rabies elimination.
Education Tools:
Discover the various education materials that GARC has developed as fit-for-purpose materials that cater to different audiences. Access free online certificate courses and download materials to help you to educate people and promote rabies awareness among your communities.
Planning Tools:
Head to this section to explore the available tools to help you develop a national strategy and plan your rabies elimination campaigns. Delve into these Planning tools designed to aid in the development of rabies elimination programs suitable for your country.
Surveillance Tools:
Surveillance is a vital component of rabies control programs. This section offers a suite of tools that we have developed to make surveillance, data collection, and data reporting easy.
Visit our website today and explore the resources and tools that can help you and your community in your rabies elimination journey.
Take control in the fight against rabies! Visit GARC's revamped website today to access valuable resources and tools for effective prevention and elimination. Join us in saving lives!
Article contributed by: Eunice Mendoza (Community Education Officer, GARC)