World Rabies Day - stronger every year!

World Rabies Day bounced back with a bang, after two years of pandemic-induced uncertainty and limitations to events and activities.
This year, under the banner of Rabies: One Health, Zero Deaths, people and organizations from across the globe united to help End Rabies Now. Over 280 events were registered on the global platform from over 60 different countries - Asia and Africa held the most, with India and South Africa leading the way. And what events those were… with plenty of imagination, creativity, and above all, dedication!
Some of the highlights of 2022 included (but were by no means limited to)
individuals sharing their own artwork
rally events to raise awareness in parts of Africa and Nepal
online conferences, webinars, radio interviews and quizzes in Iran, Morocco, and South Africa
a Pawshion Show in the Philippines
animation videos
school education visits
mass vaccination campaigns in Malawi and India
lots of online messages from international organizations including the United Against Rabies Forum, WHO, WOAH, FAO and many, many more organizations representing NGOs, Private sector and others.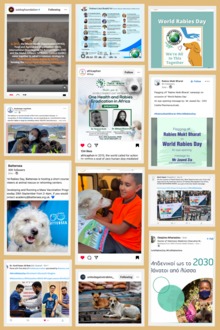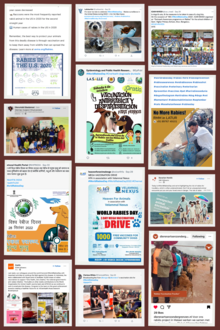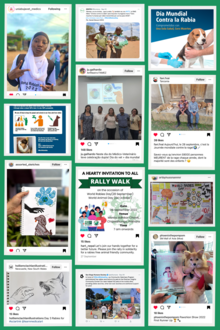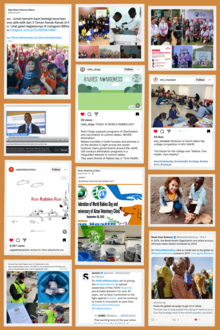 In addition, GARC participated in events held by the OHIR Journal, the University of Pretoria, St Roch Animal Bite Treatment Center, WOAH/FAO/WHO/UNEP, Carlie Rooivlag, the Central Veterinary Hospital of Tehran, Boehringer Ingelheim and the Africa Public Student Network Initiative. Perhaps the most exciting events were the short course webinar created in collaboration with Battersea Academy and the completion of the Rabies Educator Certificate course by Japanese influencer Fumiya!
This brings us to social media channels: they were on fire with a reach of hundreds of thousands - search for the #WorldRabiesDay, #WorldRabiesDay2022 and #1Health4Rabies hashtags to see the wide selection of global activities that took place during September.
True to tradition, GARC and Boehringer Ingelheim teamed up to reward 4 individuals for their efforts to eliminate rabies. Those shortlisted for each category, as well as the awardees, can be found HERE. Awardees receive $1,500 USD in cash and an additional $1,500 USD in in-kind support through capacity building and use of the surveillance tools in their work.
In summary, we would like to thank each and every one who participated in making World Rabies Day 2022 such a huge success and establishing it under the One Health banner that it so well exemplifies. We wish everyone joy and health for the festive season and 2023 - with an even bigger, better, and louder World Rabies Day* to come!
*if you too wish to help support our work against rabies, no help is too small - just click HERE!
Article contributed by: Kerenza Vlastou (GARC)